I know. I'm a terrible food blogger, posting a Halloween recipe right on Halloween like this.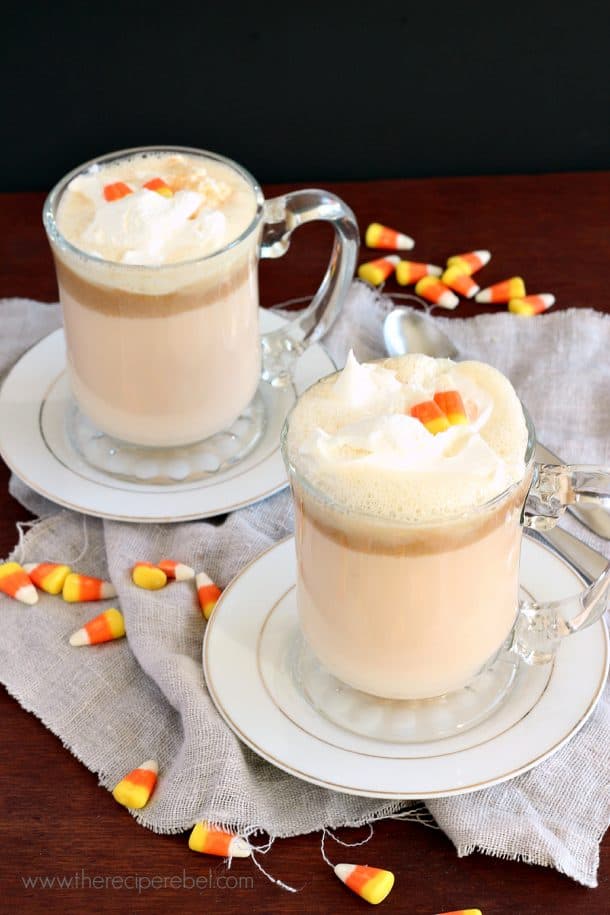 I should probably be sharing Christmas recipes already, or at least turkey recipes for American Thanksgiving.
Don't you worry — those will be here before you know it.
As I mentioned in this post, I was really disappointed (okay, a touch cynical) last Christmas because I didn't get to do any Christmas decorating or baking. And now this Christmas, we're due to have a baby (hopefully a week or two before, but hey, you never know!).
And I'm super overjoyed to get to love another kid as much as I love my daughter (they say that's how it works, right?), but I really, really like Christmas.
So I told my husband long ago that I was going to start Christmas decorating and baking on November 1 this year.
Well, it's Halloween today, so I'll be sure to let you all know how that goes. I have a feeling I might meet some resistance…
Anyway. Hot chocolate.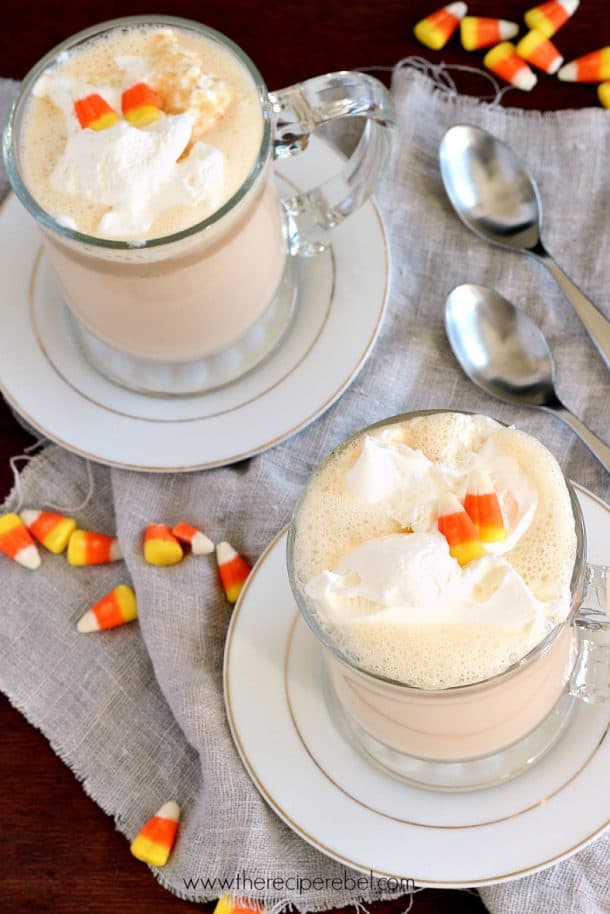 Candy corn peanut butter white hot chocolate.
Because trick or treating can get a little chilly over here. Costumes-over-snowsuits kind of chilly.
And because does anybody really want to eat all that candy corn anyway?
I've seen lots of recipes on Pinterest that combine candy corn and peanut butter, or candy corn and white chocolate, or candy corn and peanut butter and white chocolate. But I'd never seen a hot chocolate like the one I've cooked up for you today.
So I started doing some research.
And I found on Culinary Concoctions by Peabody that candy corn will actually disintegrate in milk. Just like that. Kind of freaky, huh?
I thought that would be the perfect way to get the candy corn flavour into the hot chocolate. The peanut butter and white chocolate? Those ones are easy.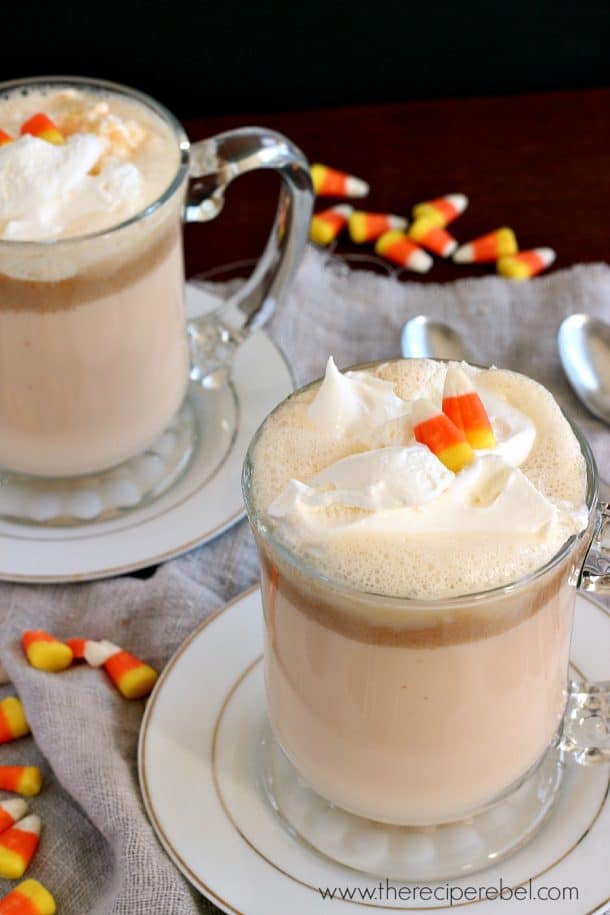 This hot chocolate is totally rich, creamy and decadent. It's quite sweet because, well, candy corn is quite sweet. If you want to cut the sweetness a bit, I think a bit of instant coffee would be awesome (and, hey, caffeine!), or even just a bit more milk or hot water.
But, I mean, Halloween is all about indulging in some sweet treats, right? 😉
2 large servings
adjust servings
Candy Corn Peanut Butter White Hot Chocolate
Candy Corn Peanut Butter White Hot Chocolate -- a totally decadent sweet treat to warm you up this Halloween!
Ingredients
3

cups whole milk, divided

1

cup candy corn, chopped

1/2

cup white chocolate

1/4

cup creamy peanut butter

whipped topping
Instructions
In a container with a lid, combine 2 cups of milk and candy corn. Let sit 3-4 hours or overnight, stirring periodically if possible.
Stir milk and candy mixture and strain into a pot. Add remaining 1 cup milk, white chocolate and peanut butter.
Heat and stir over medium heat until hot. Top as desired with whipped topping or other garnishes.