Ashley shares about her experiences with probiotics and Astro Original Kefir Probiotic Yogurt, including different ways to incorporate kefir yogourt into your diet!
Hey friends!
I know that this is a little different than my usual recipe posts, but because food impacts our lives in so many ways, I wanted to share some of my journey with probiotics including kefir. I am in no way a health professional, and this post should not be considered the end of your research if you're interested in learning more about probiotics. It's always a good idea to talk to a registered dietician or your family physician about anything related to your health.
I wrote this post in partnership with Astro Canada, because a balanced lifestyle and taking care of my body is important to me! I was compensated for my time in creating this post, and all opinions are my own.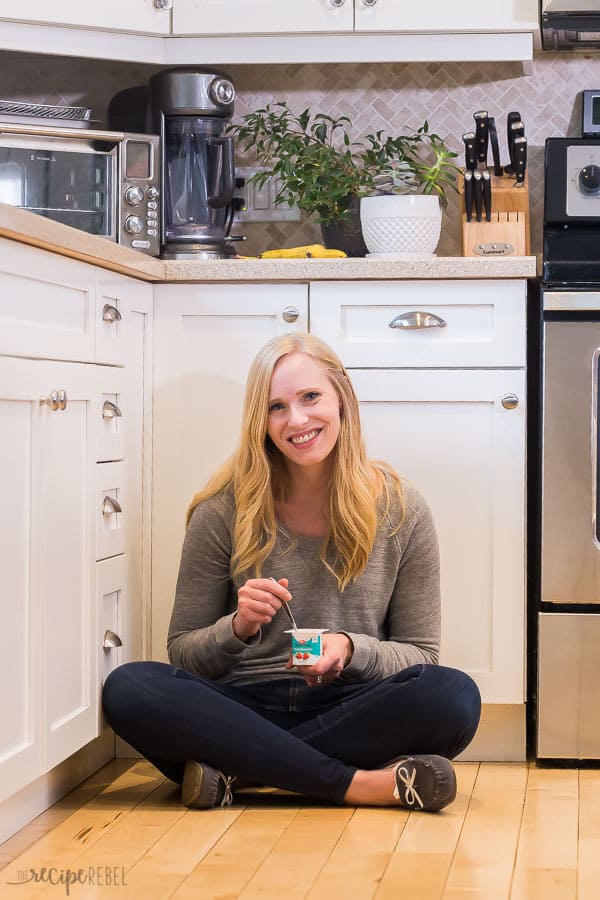 A misdiagnosis
I wanted to start off by sharing a bit about my journey to a healthy body last summer and fall.
I realize this isn't something we talk about a lot, and for good reason! But I think it's important to know that you're not alone, and many of the symptoms we have are completely normal.
I'm a big believer in feeding my body well, and I eat relatively healthfully, most of the time (although Instagram may have you thinking otherwise 😉 ).
But I struggled with a really upset stomach last summer, and it lasted for 4-5 months.
This was something very new to me, even though it seems that food allergies and sensitivities are becoming more common (or we're just getting better at figuring out what's going on).
I went to my doctor and spoke to her about it, and she told me I was lactose intolerant (we never did any tests for lactose intolerance, but we did rule out Celiac Disease — thank goodness I can still enjoy my carbs!), and left it at that.
So I reduced my dairy intake, and added in Lactaid pills here and there, and didn't notice any changes.
This went on for what seemed like forever, until I figured that there was obviously something else going on.
I decided I would completely cut out dairy for 2 weeks and if I didn't notice a change, then it obviously wasn't the problem.
Well, it wasn't the problem. Nothing had changed.
I decided that, based on my own research, probiotics were a good place to start on my journey to getting healthy again, and I saw a massive improvement.
I don't know what triggered my body to start spiralling down that path in the first place, but I've been a believer in the value of including probiotics as part of a well-rounded diet ever since, which is why I wanted to share this Astro Original Kefir Probiotic Yogourt with you today!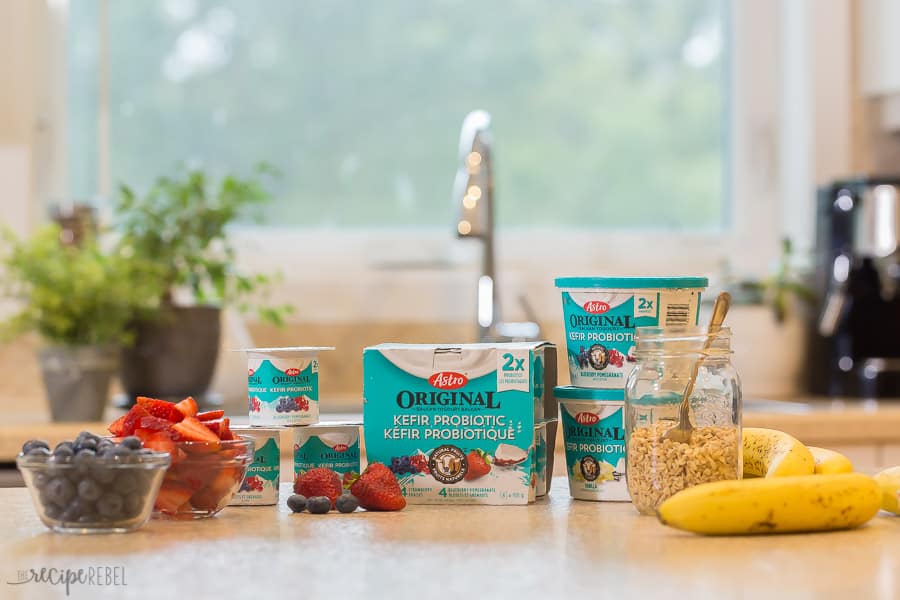 The benefits of kefir yogourt and probiotics
Again, I don't have a food science degree and I'm not a dietician — but I do love to research and believe that my own experiences have taught me a lot.
It's widely believed that probiotics aid digestion for a number of reasons.
Probiotics include good bacteria, boost your immune system and help the body to absorb nutrients (see Harvard Health and Healthline for more information).
Astro Original Kefir Probiotic Yogourt is one of the ways I'm adding more probiotics to my diet — it's made with Canadian dairy and has twice the amount of probiotics in it as competitors — making it an easy choice for my family and I!
In a recent poll done by Astro, 77% of Canadians didn't want to spend time deciphering a complicated ingredient list. I am definitely one of those and love the simple ingredients in Astro Original Kefir Probiotic Yogourt!
Click here to get more information on Astro.ca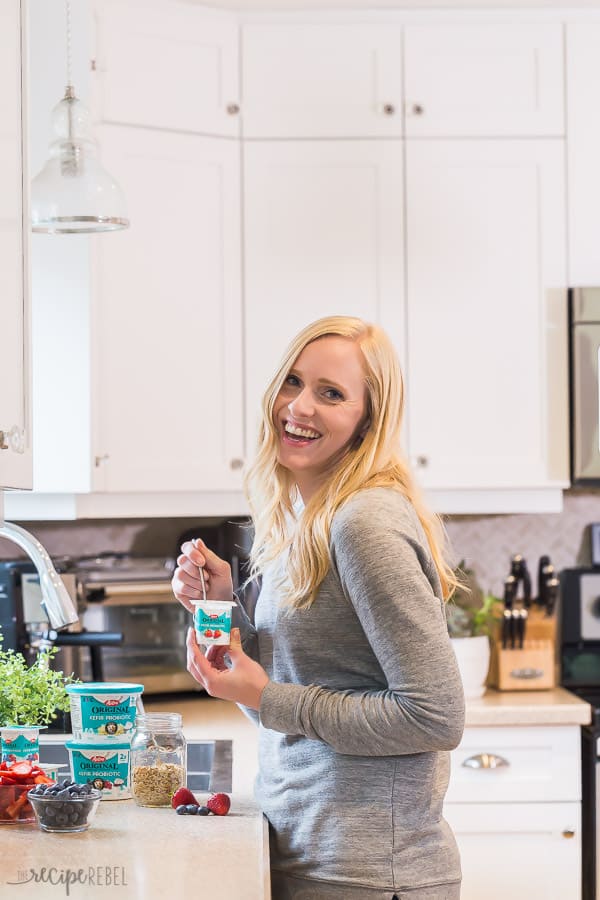 Different ways to add Kefir Yogourt to your diet throughout your day:
Astro Original Kefir Probiotic Yogourt is thick, creamy and delicious all on its own (it comes in 500g tubs and 8x100g multipacks in 4 varieties: plain, vanilla, strawberry and blueberry-pomegranate)!
But if you're looking for different ways to change up your yogourt consumption, try these ways:
A smoothie with your favorite combination of fresh or frozen fruit, kefir yogourt, and a splash of water.
In a yogurt parfait with Astro Original Kefir Probiotic Yogourt, fresh or frozen fruit, and granola.
In a smoothie bowl — the best of both worlds! Make a thick smoothie and top it with fresh fruit and granola.
The 100g containers are perfect for on the go breakfast and in lunches.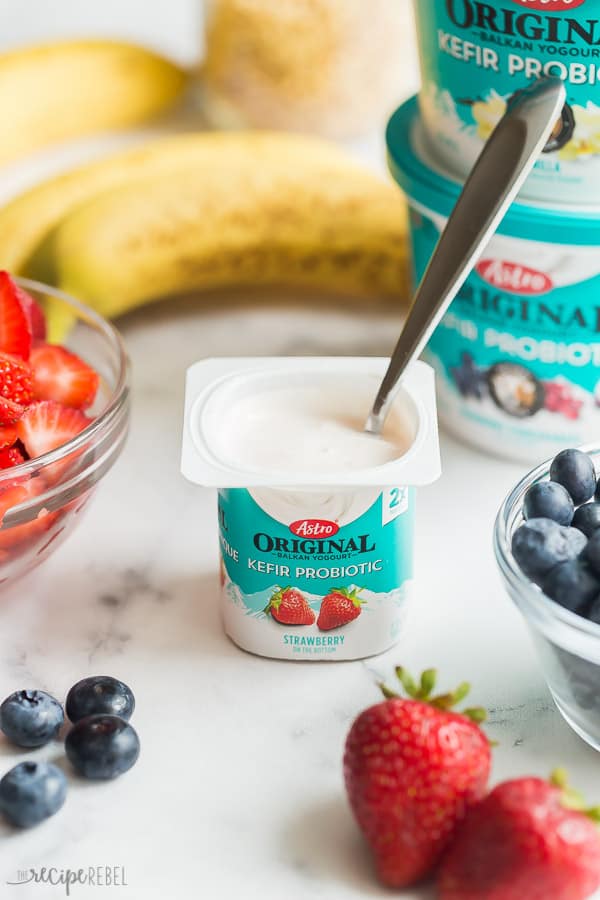 How do I get my hands on Astro Original Kefir Probiotic Yogourt?
The yogourt is available at major grocery stores (I picked mine up at Real Canadian Superstore) across Canada
It is approximately $3.69 per 500g tub and 6.99 for an 8x100g multipack
Click here to get a coupon for $1 off of Astro Original Kefir Probiotic Yogourt on Save.ca