Crispy, oven baked fries topped with slow cooked shredded beef, barbecue sauce and cheddar cheese: the perfect way to use up leftover barbecue shredded beef!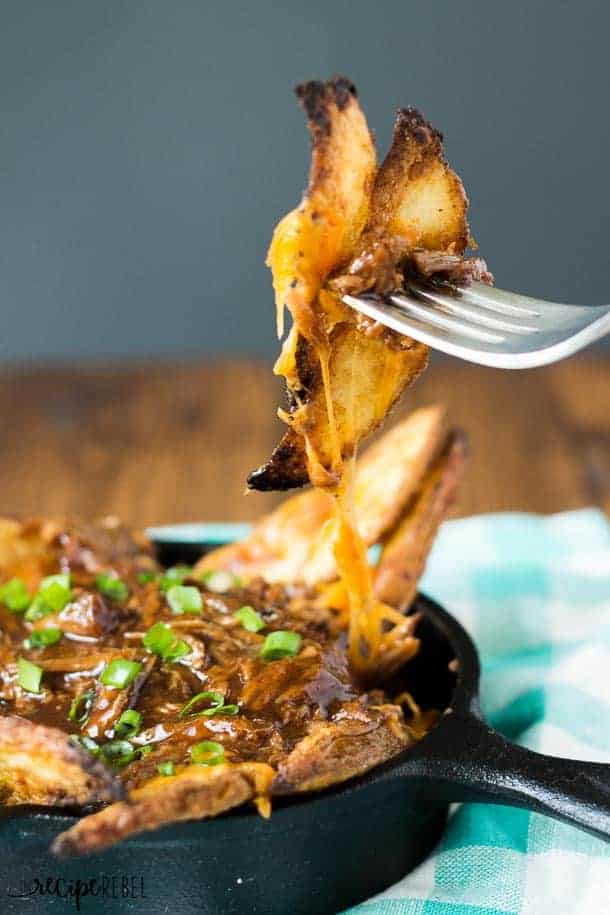 Sometimes I just need a little man food. Maybe we all need a bit of man food sometimes.
This is one of those things you make that causes your man (or maybe your woman!) to give you those eyes across the table as he takes his first bite. I know my husband did.
Those "I'm-in-meat-cheese-and-potato-heaven" kind of eyes.
You know what I'm talking about.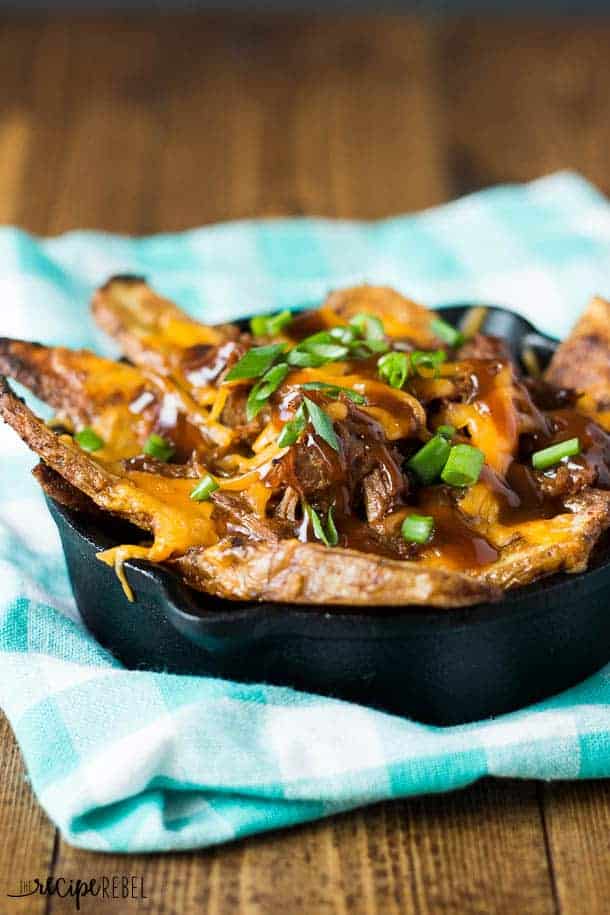 I made this huge batch of fry seasoning. Which gives me an excuse to have fries every other day, right? At least they're baked, so I can feel a little bit better about it. And the meat and cheese are there for protein! It's win-win-win.
I loved this meal because I had the fry seasoning made and the BBQ beef in the slow cooker all day. All I had to do was cut my potatoes and make my fries. This is such an easy meal to pull off during the week, and it's also a way to mix up your regular BBQ shredded beef or even pulled pork.
You can make it high-class by making your own barbecue sauce and using specialty cheeses, or you can keep it simple like I did (hey — I'm a working mom with an almost-2-year-old. No judging), and use bottled barbecue sauce and good ol' cheddar cheese.
You might even be able to convince him (or her!) to do the dishes 😉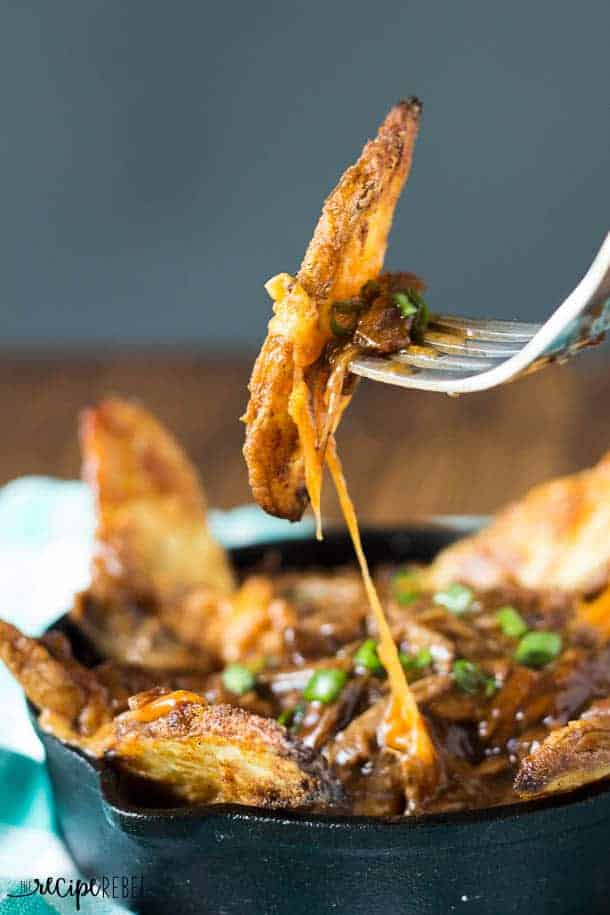 *Recipe and photos updated from the original (thank goodness!)
You might also like this Slow Cooker Honey Balsamic Pulled Pork!
Or this these 15 Minute BBQ Beef Sandwiches!
BBQ Beef and Cheddar Poutine
Ingredients
1 beef roast (mine was about 3 lbs)
3 cups beef broth
1 bottle of your favorite barbecue sauce
2 tbsp fry seasoning
3-4 medium potatoes
1 1/2 cups shredded cheddar cheese
Directions
Pour broth into slow cooker with roast and cook 8-10 hours on low, until falling apart. Shred and combine with barbecue sauce. Return to slow cooker to keep warm while you make the fries.
Prepare fries according to this recipe (the fries will take about an hour including the soaking time).
When fries are crisp, gather into small piles on the baking sheet (as many as you are serving). Set the oven to broil.
Onto each pile of fries, sprinkle some cheese (set aside half of the cheese for the top). Top with a good portion of shredded beef, and sprinkle with the remaining shredded cheese.
Broil 1-2 minutes until cheese is melted.
Garnish with green onions if desired.
See these other poutine recipes!
Authentic Canadian Poutine from Seasons and Suppers
The Ultimate Poutine from Canadian Living