Hello friends!
I feel like things really took a turn in March for a lot of us, so I wanted to pause from our regular cooking challenges but still offer something fun for the members of my Facebook group.
My Facebook group is one of my favorite places on the internet, with people joining in to share photos for the giveaway, ask questions, share advice and just generally be awesome.
This month, I want to focus on using what we have (especially if you're not going far for groceries or they're in short supply!), and going back to old favorites.
Feel free to remake one of your favorites from The Recipe Rebel, or try one of mine!
April is all about taking care of ourselves, our families, and our sanity in this trying time.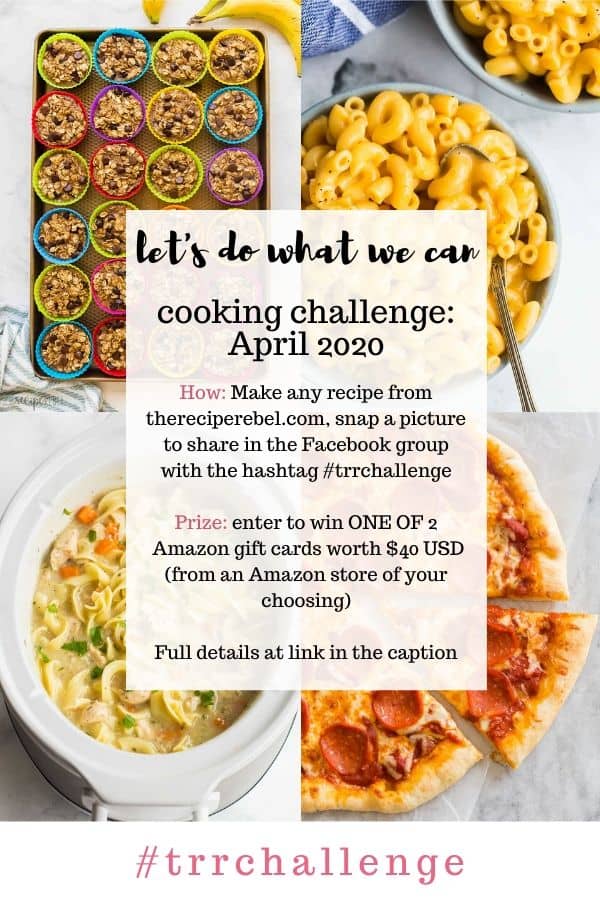 What is The Recipe Rebel Cooking Challenge?
It's a chance for you to test drive one of my recipes, take a picture (it doesn't have to be pretty!), post a picture in my Facebook group, and enter to win a prize!
It is so helpful for me to see how my recipes turn out for you and to hear about what changes you made or would make. I get great feedback and know how to make my recipes even better, and you get a chance to win!
How is the Cooking Challenge changing in 2020?
For the first few months of the year, I ran a new series called Six Ingredient Suppers, where I shared a new 6 ingredient dinner recipe every week along with a video.
I am pausing Six Ingredient Suppers for the month of April as we're adjusting to having all the kids at home, all the time, and I know a lot of you are looking for more pantry and freezer meals.
Head over to my Six Ingredient Suppers introduction here to learn more and sign up for my email list so you can cook along with me when we get started again!
What is the theme this month?
The theme for April 2020 is….. whatever goes! Almost 😉
Choose ANY RECIPE from The Recipe Rebel, make it (feel free to put your own spin on it!), and share a pic to enter to win!
Some of our family favorite recipes to get you started:
What is the prize? How do I enter?
For March 2020, I'm giving away 2 $40 Amazon gift card ($40 USD value, to Amazon.ca, Amazon.com, Amazon.com.au, or Amazon.uk!) — so you can treat yourself to whatever your heart desires!
To enter, simply make any recipe from The Recipe Rebel (again, you can put your own spin on it or swap in things you have), take a picture, and upload it to the Facebook group with the hashtag #TRRchallenge.
Keep in mind that I do have recipe round ups featuring recipes from other bloggers, but the recipe has to be from The Recipe Rebel web site.
Rules and regulations:
Giveaway is open to any residents over the age of majority in their country of residence, excluding the province of Quebec. Giveaway is open from the time of posting until April 30, 2020 at 11:59 pm CST.
Winners will be selected at random and notified within 48 hours of the contest ending. Facebook winner will be notified by a comment and tag. Winners must correctly answer a skill testing question and respond within 48 hours of initial comment by direct message or a new winner will be chosen.
Giveaway is sponsored by The Recipe Rebel Inc. and is in no way associated with Facebook or Amazon and you release Facebook of all responsibility.
The prize will be purchased on Amazon.ca, Amazon.com, Amazon.com.au, or Amazon.uk and shipped and delivered via Amazon. The Recipe Rebel Inc. is not responsible for defective products or missed delivery.
Have fun!
If you have any questions about how this is going down, shoot me an email or leave me a comment on this post and I will respond as quickly as possible!