This 30 Minute BBQ Sausage, Peppers and Potato Skillet is a hearty, healthy, easy meal that only needs one pot, and it's gluten free! Packed full of flavor the whole family will love!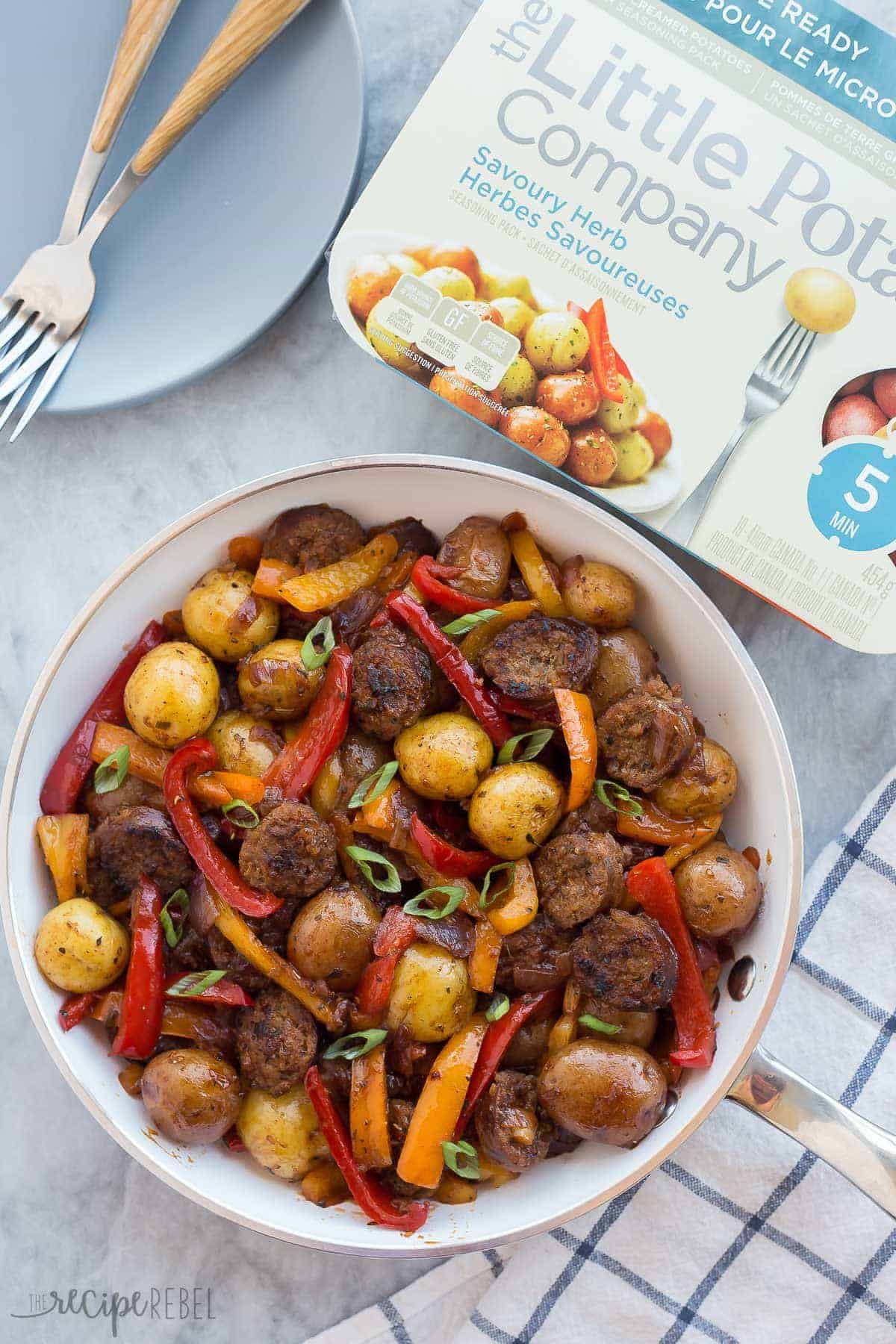 I'm pretty sure I don't have to express my love for a good 30 minute one pot meal for you to understand how I feel. I mean, don't we all feel the same way? I have a few favorites: One Pot BBQ Chicken Pasta, One Pot Caprese Chicken and Rice, One Pot Ham and Pineapple Rice, and now? This BBQ Sausage and Peppers Skillet with Potatoes.
If you're one of those people who spends 3 hours every night leisurely cooking dinner, well, you've probably ended up in the wrong place (unless you're here for the dessert section??).
There are just so many different things you can throw into one pot and see what comes out. But this is one of our favorites! I had to add a little barbecue sauce, because, well, we love the stuff (and you can make your own if you want — this Pineapple Brown Sugar Barbecue Sauce is one of our favorites!).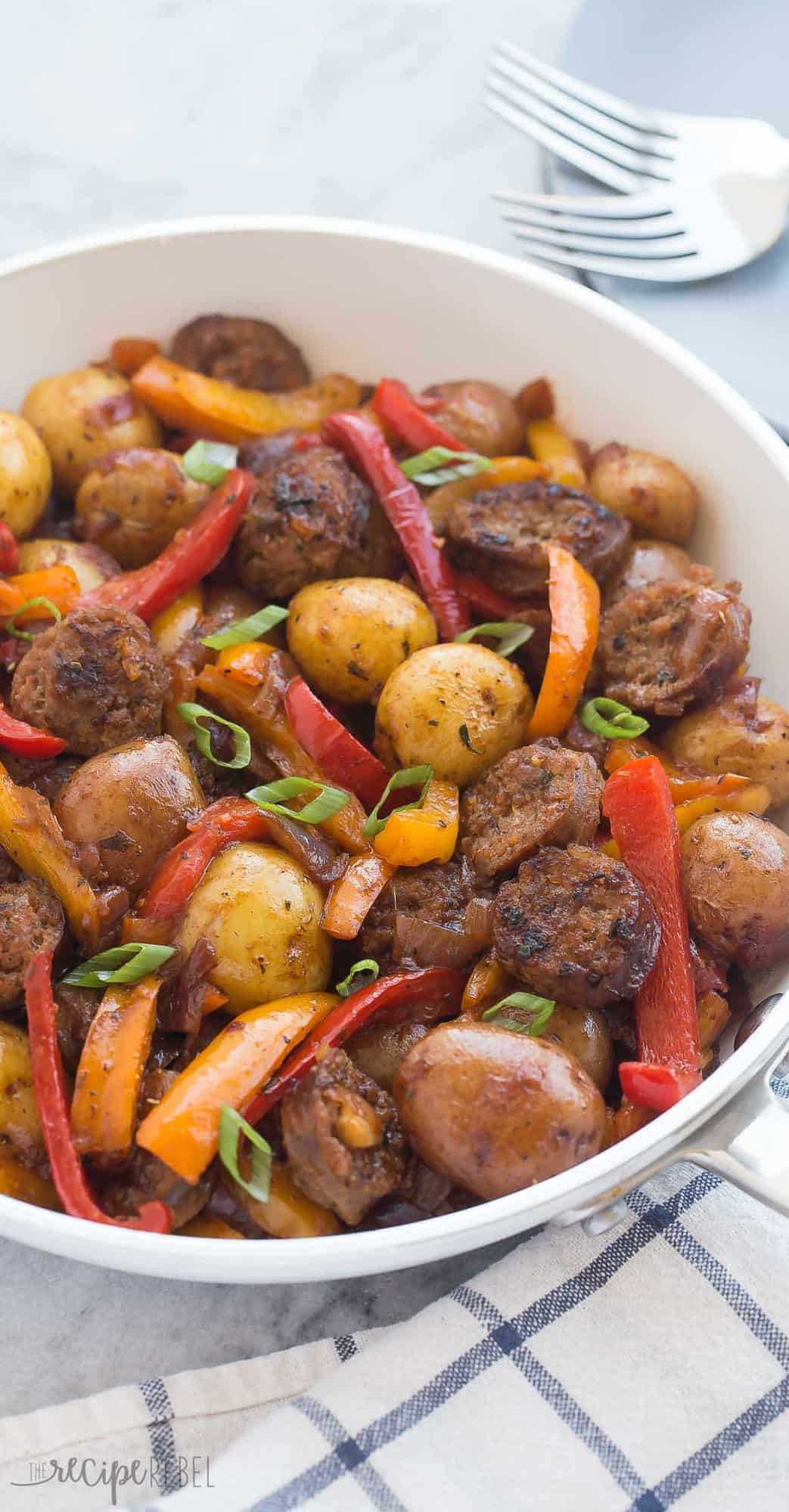 I suppose a more traditional  sauce would be tomato, but as I made this the sun was shining and it was an unseasonably warm day, and on those days I just can't resist that smoky sweet BBQ flavor!
This is an easy, healthy, quick dinner that is made quicker with the microwave packs from The Little Potato Company. If you don't have the microwave packs, you can definitely quarter some Little Potatoes and cook them right with your sausage and peppers in the skillet. What I love about using the microwave packs is it speeds up the cooking process so much! The potatoes are usually the last thing to be cooked through in a one skillet meal, and the microwave packs takes out the guess work completely. Give them a head start while the rest of the meal cooks in the skillet, and then toss it all together (plus, no extra dishes!).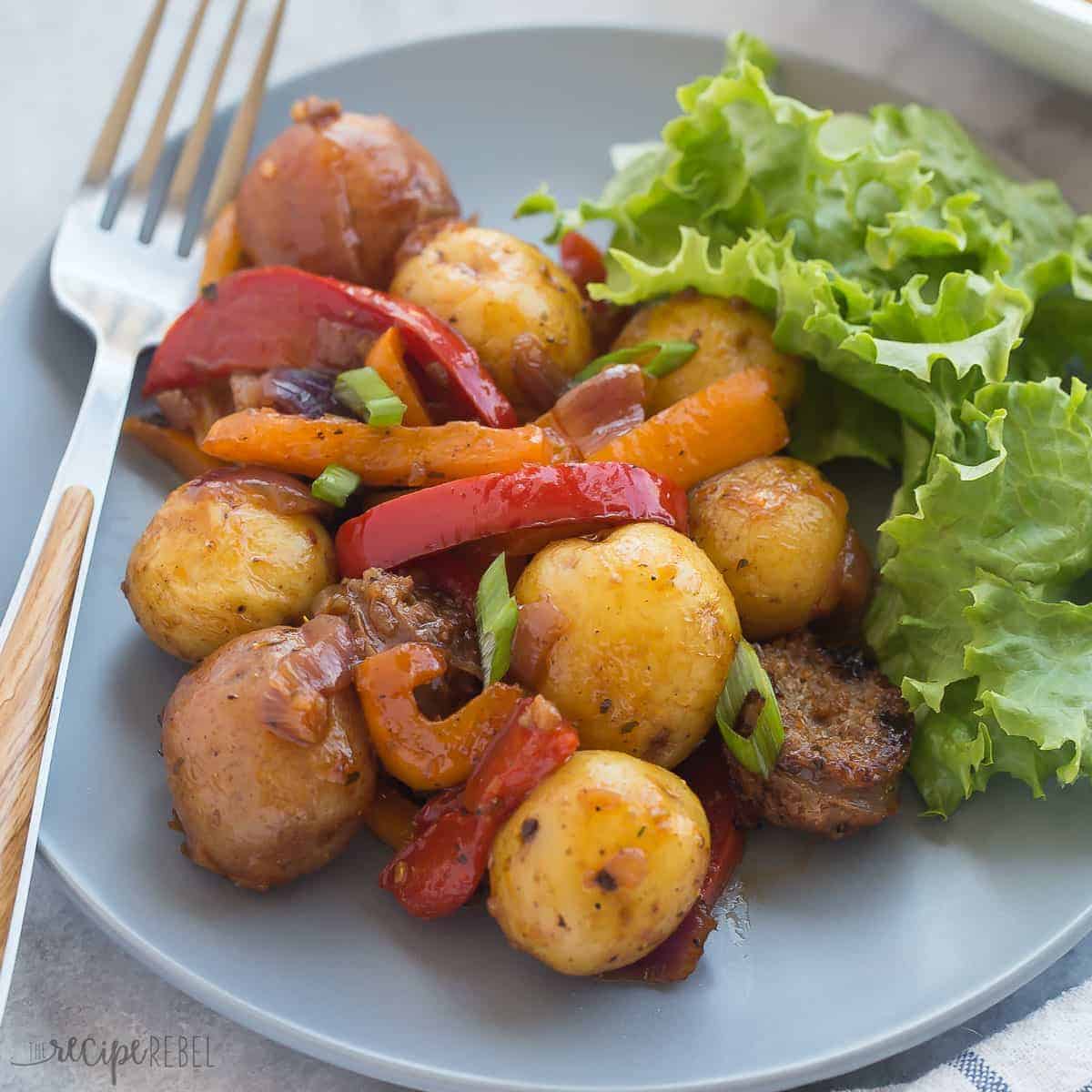 NOTES:
*If you want to make the dish a little lighter, feel free to swap out regular Italian sausage for turkey Italian sausage to cut calories.
*This dish can easily be made gluten free! Check that the ingredients you're using is certified gluten free, and you're good to go! The biggest trouble spots would be the sausage and the barbecue sauce, so check those carefully.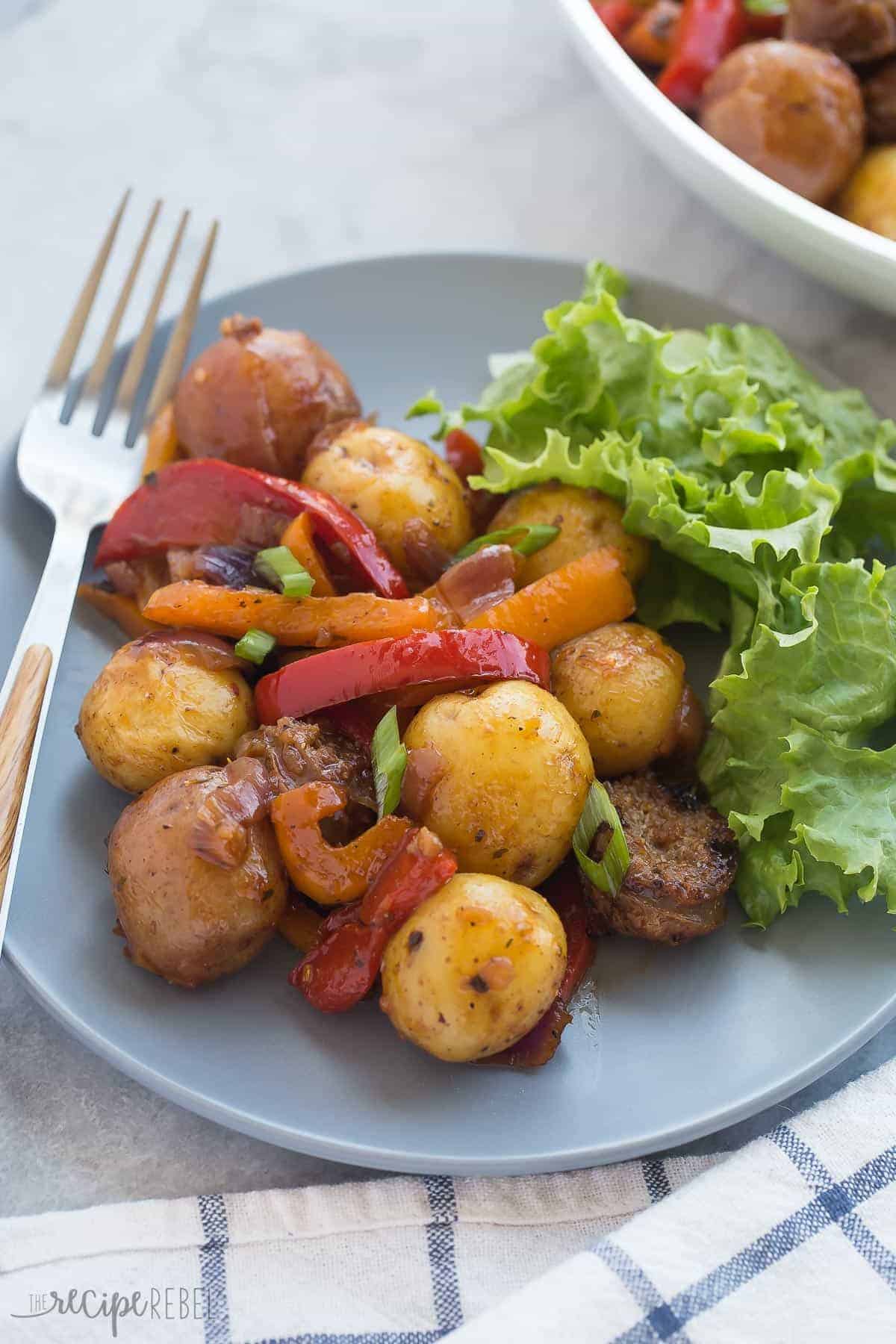 *This post is sponsored by The Little Potato Company as part of my ambassadorship with them, and I couldn't be happier about it! Thank you for supporting brands that make The Recipe Rebel possible (and keep me working from home with my 2 sweet girls)!
30 Minute BBQ Sausage, Peppers and Potato Skillet
This 30 Minute BBQ Sausage, Peppers and Potato Skillet is a hearty, healthy, easy meal that only needs one pot! Packed full of flavor!
Ingredients
4 links mild Italian turkey sausage
1 tablespoon canola oil
3 bell peppers, sliced
1 red onion, sliced
1 Little Potato Savory Herb Microwave Ready pack (or 1lb Creamer potatoes -- see notes above)
1/4 cup barbecue sauce
1/4 cup water or chicken broth
Directions
In a large skillet, fry sausages over medium-high heat until browned on the outside (about 3-4 minutes per side). Meanwhile, cook the potatoes according to the package directions and set aside (see notes above for using bagged potatoes).
Remove sausages from pan and wipe out with a paper towel. Add canola oil, peppers and onions and cook over medium heat until tender-crisp, about 3-4 minutes. While peppers are cooking, slice your sausages.
Add potatoes, Savory Herb seasoning pack, sliced sausages, barbecue sauce and water to the pan and cook for 2-3 minutes, until the flavors have come together and sauce has coated potatoes, peppers and sausages.
Loading nutrition data...
 More 30 Minute Meals!
30 Minute Chicken Veggie Curry from Whole and Heavenly Oven
30 Minute Lighter Stovetop Turkey Tetrazzini from Savory Nothings
30 Minute Ginger Beef Tacos from Sweet Peas and Saffron