These mini Twice Baked Potatoes are a simple appetizer or even side dish that everyone will love — creamy, perfectly seasoned, cheesy potatoes stuffed inside a tender potato shell!
*To enter the giveaway, scroll down to the bottom and answer my giveaway question!
I love, love, love (love, love, love, love) comfort food.
And I love twice baked potatoes.
We don't have mashed potatoes very often (mostly because I'm too lazy to mash perfectly tasty potatoes!), but when we do it's a treat. Twice baked potatoes are even more of a treat! And everything little is better than the original, right?
I also love potatoes. They're so creamy and comforting and they also offer great nutritional value at the same time. They're definitely my favorite vegetable!
I resisted the urge to add all kinds of naughty things to these twice baked potatoes because (a) it's January and (b) these potatoes are so good on their own! You can load them up with whatever you want, but they're perfectly delicious as is. I added a sprinkle of cheese on top (because cheese), and they're the perfect little game day bite!
There's one thing that I think makes these potatoes extra special and it's the seasoning packs from The Little Potato Company Oven-Ready packs. I use herbs and spices a lot in my food, and yet I've never come close to replicating these little spice packs! I love picking up whichever one I'm in the mood for — it adds a big punch of flavor to your potatoes (however you're using them!).
You can absolutely pick up a bag of Baby Boomers or Blushing Belles and cook those up and use those with your own seasoning blend — they will work perfectly! But I made these for my daughter's (first!) birthday party and I wanted something quick and easy. I love that I just have to tear the plastic off the tray and pop them in the oven to get them going while I was working on the other 1 million things on my to-do list for her party.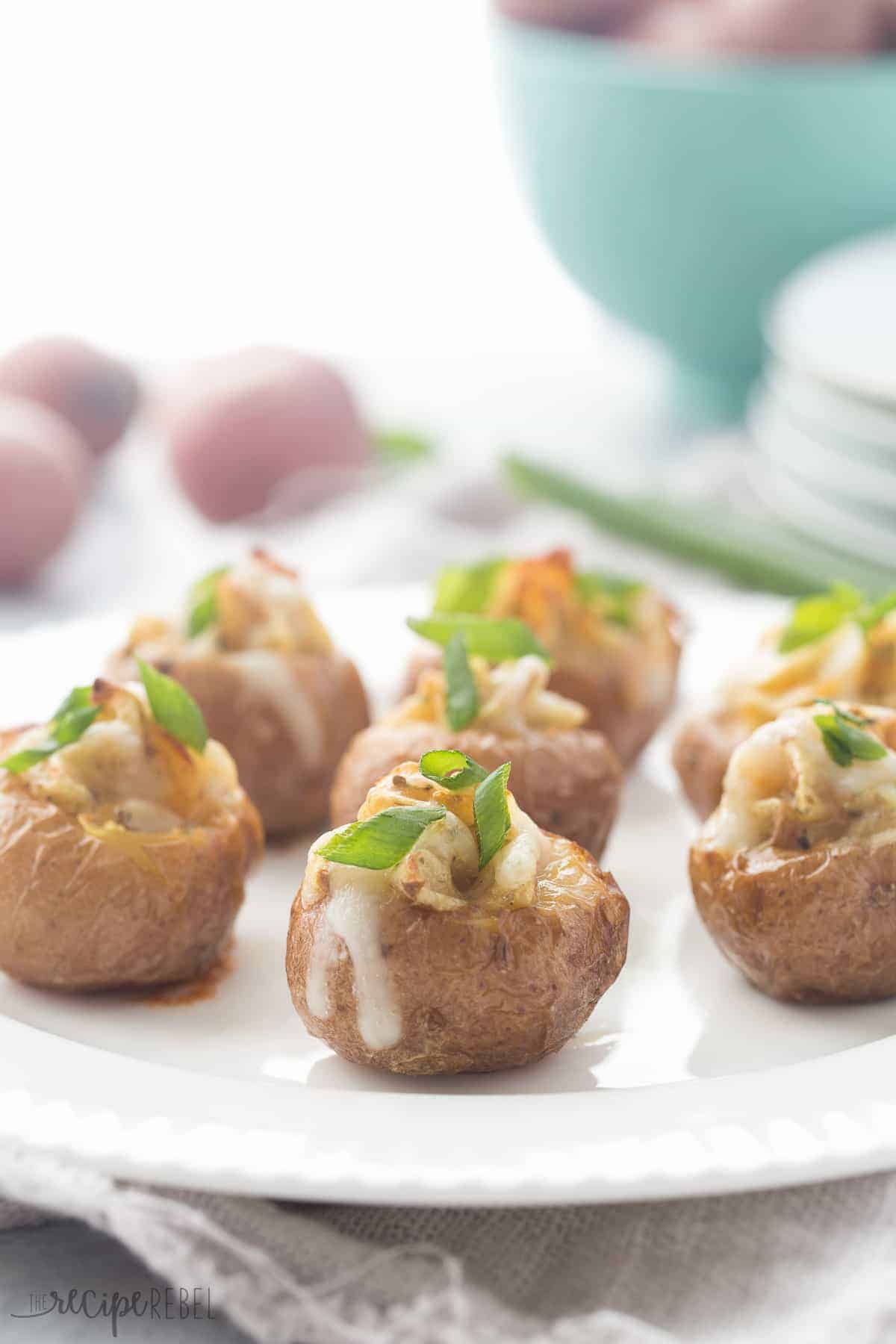 Find out more about the story of The Little Potato Company and see the story of Jacob van der Schaaf and his daughter Angela Santiago in their new video here.

Mini Twice Baked Potatoes and a Giveaway!
Serves:
15-20 appetizer servings
Ingredients
1 Garlic Herb Oven Ready pack from The Little Potato Company (or about 1 pound Little Potatoes)
2 tablespoons canola oil
½ Garlic Herb seasoning pack (or more -- to taste)
⅛ cup 1% milk
¼ teaspoon salt
1//2 cup shredded mozzarella cheese
Instructions
Remove foil tray of the Oven Ready pack and tear off plastic film. Toss potatoes with oil and bake at 400 degrees F for 30 minutes or until tender (reserving the seasoning pack instead of stirring it in).
Remove potatoes from the oven and cool to room temperature. Slice the top off each potato, then scoop out most of the flesh using a small spoon or paring knife.
Mash potato flesh with ½ Garlic Herb seasoning pack, milk, and salt. Add more seasoning or salt as desired. Fill potato shells with mashed potato mixture and sprinkle with cheese. (*To make ahead: cover in plastic wrap and refrigerate until ready to bake, up to 24 hours).
Bake at 400 degrees F for 15 minutes or until light golden brown on top.
Notes
To start with a bag of Little Potatoes, simply toss potatoes with 1-2 tablespoons of canola oil before spreading on a baking sheet. Bake at 400 degrees F for 30 minutes or until tender, and proceed with the recipe, substituting your own blend of herbs and spices into the mashed potatoes.
Now for the giveaway!
The Little Potato Company wants to give YOU a free month of Little Potatoes!
Giveaway is open to Canadian or U.S. residents over the age of majority. Giveaway is open from January 13, 2016 until January 20, 2016 at 9pm CST. Winner will be selected at random and notified within 24 hours of the contest ending. Winner must correctly answer a skill testing question and respond within 48 hours of initial email or a new winner will be chosen. 
Below I've shown you 4 of the recipes I've created in partnership with The Little Potato Company (Top left: Spanish Tortilla; Top Right: Chicken Fajita Sheet Pan Dinner; Bottom Left: Warm Maple Bacon Potato Salad; Bottom Right: Pizza Smashed Potatoes).
TO ENTER I want you to tell me which one you're most likely to try (or which one you have tried)!
And please, don't worry about hurting my feelings! I'd really love your feedback and it helps me to figure out what you're looking for in terms of future recipes 🙂
This post and giveaway are sponsored by The Little Potato Company as part of my ambassadorship — thank you for supporting brands that help make The Recipe Rebel possible!
** This giveaway has ended — thank you to everyone for your support! The winner has been notified and the prize will be on its way shortly **